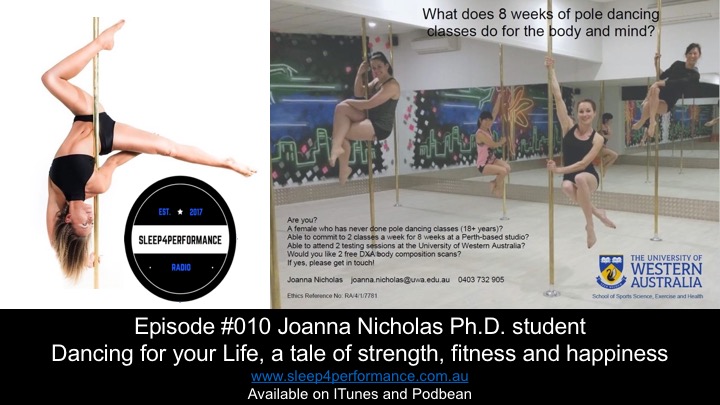 In this episode, I speak to Joanna about her Ph.D. research at UWA. Joanna has spent over a decade in the fitness industry including 6 years as the regional Master Coach for the Australian Institute of Fitness (WA). With over 15 years of dance training and conditioning experience, Joanna fills her passion for teaching as a pole dancing instructor.
Joanna is currently a PhD candidate at the University of Western Australia and is conducting research into the science of pole dancing. The overall aim of her research is to build foundation knowledge on the psychological (participation motives and outcomes), physiological (metabolic and cardiovascular demand, fitness and body composition changes) and biomechanical (muscle activation, kinematics and injury surveillance) characteristics of pole dancing. 
Pole dancing has become a popular form of physical activity over the last 10 years; however, little research has been devoted to understanding pole dancing as a form of physical activity from an exercise science perspective. The outcomes of Joanna's research will this assist in educating the community, health professionals and studio owners on the associated benefits, limitations and risks of pole dancing; plus serve as a platform for future research to be conducted in the areas of pole dancing psychology, physiology and biomechanics.
Contact details and social media
Email: joanna.nicholas@uwa.edu.au
Mobile: 0403 732 905
Instagram: https://www.instagram.com/poledancingresearch/?hl=en
Twitter: https://twitter.com/JoannaCNicholas
Facebook: https://www.facebook.com/groups/153151078358475/
Research Gate: https://www.researchgate.net/profile/Joanna_Nicholas
Joanna is recruiting females for a training study looking at the effects of pole dancing on the body and mind. To be eligible participants must be female, over 18 years, uninjured and able to exercise, and have not participated in regular pole dancing classes in the past. Participants will attend a testing session at UWA completing a 2D DXA body composition scan, fitness tests and a survey. They will then attend two pole dancing classes a week (average 60 minutes in duration) for 8 weeks at a Perth-based studio before returning to UWA for follow up tests. Pole dancing terms commence late October so if interested please contact Joanna ASAP.
Frequently Asked Questions
Who can sign up for the study? Females over 18 years that have not done regular pole dancing classesat a studio before.

Do I need to be really fit? No, so long as you are uninjured and in good health (medically cleared to exercise) you are able to participate.

What do I get in return for paying for my classes? You will receive two free 2D DXA body composition scans and fitness assessments which can cost up to $300 at an exercise clinic.  

Is it ok if the studio I choose doesn't run 8 week terms? Yes. It is ok if your studio runs shorter or longer terms, so long as you complete your daily online training diary.

Can I attend classes at different studios? No. Unfortunately for consistency participants are required to attend all classes at the same studio.

Can I sign up for other aerial/fitness classes that the studio offers? No. For this study we require participants stick to two beginner pole classes a week (classes that involve learning beginner moves on a pole).

Can I start other new exercise regimes? No. It is important that your physical activity levels outside of your pole dancing classes remain minimal or at a level that is consistent to before starting the study. 
Keen to be on board? What to do next…
Choose and contact a studio - book and pay for 2 classes a week for one term (payment made directly to your studio)

Notify us of the studio you wish to attend and the date of your first class

Book pre-testing session at UWA

Include your contact phone number in your reply email